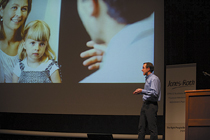 A quick question: what comes to mind when you think of the Bend Venture Conference? Perhaps passionate entrepreneurs… an intense competition… an engaged audience. Certainly, a lively day of networking. But what about the Angels? The Angels including Erik Tobiason and Jeff Witwer both of Bend and Rita Hanse of Redmond are the behind-the-scenes investors who make BVC what it is.
As a newcomer to Central Oregon last year, Rita Hanse, Angel investor and management consultant, approached Jim Coonan, Venture Catalyst Manager at EDCO, to see how she could immerse herself and become actively engaged in the entrepreneurial community which she had heard so much about. He immediately suggested that she participate as an Angel investor in the Bend Venture Conference 2012.
"Even though the process was already underway, I was able to sign up for a couple of the due diligence teams where I thought I could add value from my career of working in early phase companies," explained Hanse. "It was really exciting and encouraging to find such an amazing amount of energy and buzz here in Central Oregon. That hands-on experience of participating on the due diligence teams plus attending the outstanding event itself and selecting the final company for investment gave me real insight into the inner workings of the Angel Investing process here, and how much I thoroughly enjoyed becoming an active contributor in this community.
"As a result, I have signed up once again for this year's Bend Venture Conference 2013. The quality of companies seeking investment is stellar, and I am looking forward to the process and the conference once again."
By definition (and those pesky SEC rules), Angels have to be accredited investors. That means they must meet minimum financial qualifications to invest in startups. By practice, Angels pool their money and collectively make investment decisions. More on that later at Bend Venture Conference, which takes place October 17-18.
On Thursday, October 17, update your knowledge with three practical and informative seminars in the morning, followed by the quirky UnConference in the afternoon. And don't forget the Thursday evening Broken Top networking reception.
On Friday, October 18, Launch Stage presenters will vie for an investment prize targeted to exceed $250,000. And Concept Stage competitors are sure to deliver their dose of high energy startup fun contending for the $10,000 cash prize from BendBroadband. Posing tough questions as well as offering insight, the 2013 BVC panelists are a formidable group.
You might also think that BVC is a great vehicle for giving exposure, experience and training to a large number of companies. But it's also a great learning experience for the Angels. Almost all Angels are successful entrepreneurs in their own right, but many of them have never invested in a startup beside their own company.
Erik Tobiason of Bend, who has invested in BVC for four years, said, "It's been an informative and collaborative experience. I've really enjoyed it. We use the strengths of each Angel to scrutinize the companies which gives us an advantage in evaluating prospective candidates. With the diverse backgrounds of the Angels here in Central Oregon, we really can evaluate a broad spectrum of companies. It's iterative from one year to the next, as we tweak the process with the goal of continuous improvement. EDCO has been instrumental in educating and developing the Angel community."
Jeff Witwer of Bend was involved in founding and investing in several startups in Silicon Valley before moving to Bend in 2004. He said he was delighted to find such a vibrant entrepreneurial and Angel investing community. "I've been actively involved in the Bend Venture Conference for the past four years, both as an investor and on the due diligence teams. I can truly say that there is much to love about Bend with its great hiking, biking and skiing seasons. But my favorite season is "BVC Season" from early September through late October as we review all the exciting new businesses and work toward a dynamic conference. The energy and creativity that are brought together are amazing. And it's satisfying to know that all this effort and risk capital are making important contributions to the growth of our local economy. Just like Mirror Pond and Cascade sunsets, the BVC is a key community asset."
So how do Angels get their wings? EDCO is dedicated to helping educate potential investors just as the organization educates, mentors and coaches the companies that apply to the conference. To support this objective, EDCO hosts educational events to bring Angels together and provide specific training for them.
At an Angel workshop in August, an expert panel reviewed the current crop of BVC launch stage applicants with over 20 prospective Angels. Each of the three experts explained what they look for, what companies they like and why. Because each of the experts has a different approach, it led to lively discussion that provided a great way for prospective Angels to see how successful Angels evaluate companies.
From Angel workshop to BVC, what then happens? Imagine 20 or more boisterous Angels in a room, arguing over the criteria to weed out the less promising companies. Group debate ensues as individual Angels challenge each other's top picks. It's a process that is messy by design—passionate, but not hostile.
This digging and challenging approach is technically known as "due diligence" and is the heartbeat of what drives Angels to attend weekly meetings for nearly two months and, in between, investigate the contending companies. After six weeks, the BVC Angels select the five finalists who will battle it out at the conference.
After entrepreneurs present at BVC, the Angels vote on the one BVC winner in a private session. By this point, the Angels have truly evolved into a friendly, cohesive group.
Last year, ultrasound innovator Sonivate took home an investment of $265,000 from a pool of about 40 investors. In sidecar deals, smaller groups of the Angels pooled additional dollars to invest in two other finalists, JettStream and Rally Cause.
While the entrepreneurs capture the spotlight at the Tower Theatre, BVC would be a very different conference without its Angels in the wings.